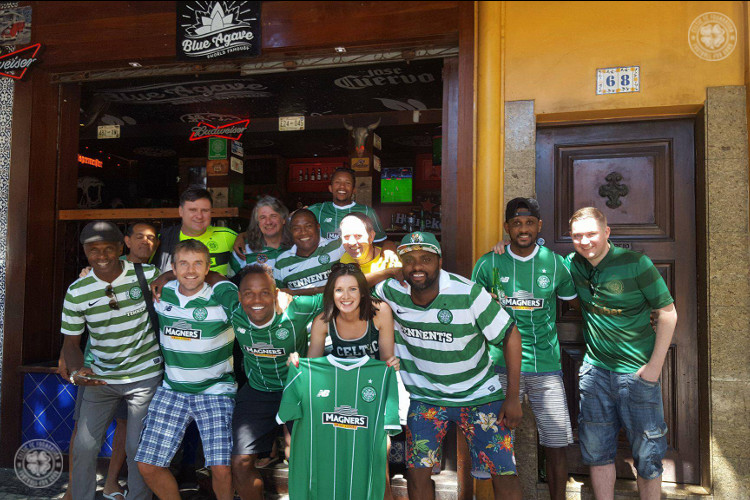 AS part of an ongoing relationship with the Bhoys of Celtic do Galo, a team based in the community of Cantagalo, Rio de Janeiro, Celtic FC Foundation are delighted to have donated a new batch of strips to the team and the local community.
Initially named Cantagalo FC, the club was first introduced to the Hoops several years ago, when the newly-formed Rio Fergus McCann Celtic Supporters' Club (RFMCSC) decided to promote the Celtic ethic throughout its home city.
A chance encounter between one of the CSC members and Humberto Rei, the 'King' of Cantagalo, led to discussions about how a team was often the heart and soul of the community and how it was a struggle to keep an amateur football team running on a shoestring budget.
A few months later, Cantagalo FC were the proud owners of a full Celtic kit donated from the club, and they began to refer to themselves as Celtic do Galo.
Having lived through the tougher periods of life in the Cantagalo community, Humberto Rei sees his dream of peace, equality and equal rights for his neighbourhood as being significantly advanced today.
And, the Celtic do Galo squad have become passionate supporters of their namesake club in Glasgow, closely following Celtic's results while avidly displaying the Hoops every time they take to the field in Rio.
But it's not just Celtic do Galo who sport the Hoops in Rio. From their formation back in 2006, the RFMCSC lent extensive support, via donations of strips and equipment, to Santa Margarida, or the Rio Celtic Boys as they now like to be called.
That relationship has grown with each year and now manager Gerson de Oliveira has five teams, playing on a regular pitch, with changing facilities and enough equipment to train upwards of 150 children.
Gerson's life revolves around football. Understudy to Zico at Flamengo, he then carved out a journeyman career for himself around South America before returning to his hometown suburb of Campo Grande in Rio. It is here that he now attempts to pass his legacy onto the eager youth of the Santa Margarida neighbourhood.