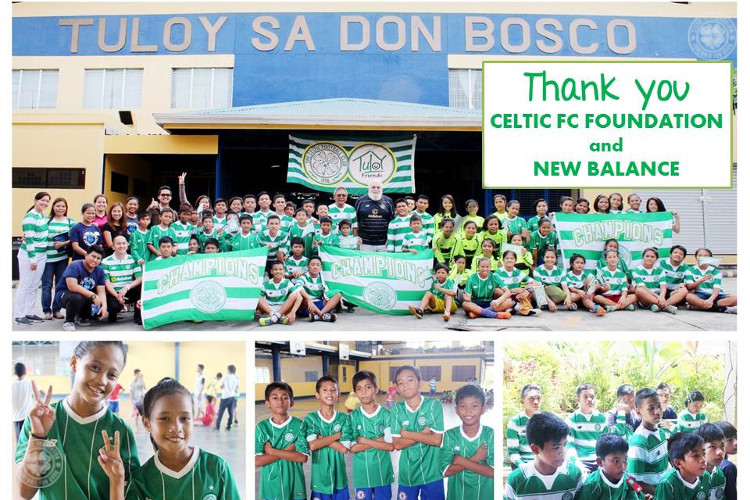 AS part of an ongoing overseas project, Celtic FC Foundation are delighted to have been able to donate a large amount Celtic tops to the Tuloy Sa Don Bosco Foundation based in the Philippines.
In 2015, club shirt sponsor New Balance donated a considerable amount of club tops to Celtic FC Foundation for distribution for charitable purposes overseas. Since then, a significant amount of these tops have been distributed worldwide thanks to the help of supporters and partners, worldwide, who have assisted in their distribution. The Tuloy Foundation are our most recent recipient.
Tuloy (which is the Tagalog word for "Welcome/Come in") Foundation was founded in 1993 by Fr Rocky Evangelista of the Salesians of Don Bosco with 10 volunteers committed to the cause of poor, abandoned, homeless children.
They began with only 12 children, and have since grown to 220 residents and 800 non-residents. Their programmes provide complete rehabilitation for street children with a comprehensive approach. Tuloy offers a six-phase program to ensure a gradual, balanced and systematic approach for the children's growth and development.
On May 8, 2016 the 200+ residents of Tuloy Sa Don Bosco Foundation were first introduced to Celtic FC by the staff of Dafabet Customer Service who hosted a live viewing of Celtic taking on Aberdeen at Paradise. Much to the delight of everyone in attendance, Celtic won that day. Little did they know at that time that the kids of Tuloy were all football fans! In fact, they now have a soccer field in the compound where they are taught year round by different local and international football coaches.
Leiron John Noriel, Business Support Manager, Dafabet Customer Support said: "Through the generosity of New Balance, 250 Celtic jerseys were received by the Tuloy Foundation. It was a long journey getting them here, but seeing the kids' happy faces as they welcomed us proudly wearing their Celtic kit, we can say it was well worth the wait.
"On behalf of the management of Dafabet Customer Support and the children of Tuloy Foundation, we would like to thank the Celtic supporters in Manila, Celtic FC Foundation, and New Balance for their generosity and willingness to share to those in need."
Celtic FC Foundation Chief Executive, Tony Hamilton, said: "New Balance have made a significant difference to the lives of thousands of disadvantaged people across the third world and we are delighted to have had the opportunity to distribute this kit. We are very grateful to them for their generosity.
"The Tuloy Foundation and many other worthy recipients now have people wearing the Hoops and in the coming months we aim to highlight the recipient charities in every part of the world."