Ex-Celt and former Sligo Rovers Player/Manager, Willie McStay will brave the cold and join a group of hardy Celtic supporters in just over a week, at our first ever Celtic Sleep Out, Sligo event.
Taking place in the home town of our Founding Father – at Brother Walfrid Park in Ballymote – the venue holds huge historical and emotional significance for the Celtic Family.
Brother Walfrid, born, Andrew Kerins in 1840, left Ballymote when he was 15, on a path that would lead to the creation of Celtic Football Club.
The club has had a strong connection to County Sligo throughout its history and Willie, who is part of one of the great Celtic families, has strong ties to the area, having been Player/Manager of Sligo Rovers from 1992-94.
During his time at the Showgrounds, Willie led Rovers to a historic treble in the 1993/94 season, winning the First Division, First Division Shield and the FAI Cup.
Willie will also be joined on the night by his wife, Mary, whose mother hailed from County Sligo.
They will head to Ballymote on Saturday, November 6 and spend eight hours in the unforgiving November Irish climate, all to raise funds for the Christmas Appeal phase of Celtic FC Foundation's Football for Good Fund.
Celtic Football Club was formed on November 6, 1887 to provide for those in most in need and with the Sleep Out taking place on the 134thanniversary of its formation, Willie, Mary and the rest of the participants will be sacrificing their warm homes to do the same.
Willie spoke ahead of the Sleep Out saying: "As soon as I heard that the Foundation was doing a Sleep Out event in Sligo, I was extremely keen to get involved, as my family and I have had long links with County Sligo and it seemed a great opportunity to help raise funds and awareness for a great cause.
"Brother Walfrid founded Celtic Football Club to raise funds to help the disadvantaged in the East End of Glasgow and the club has continued to do so to this day. When I heard the Sleep Out was on November 6, the birthday of our special club, it was fitting that we'd be sleeping out on that date and it seemed a great opportunity to raise funds and awareness for a great cause.
"Both Mary and myself are delighted to help continue that ethos of Brother Walfrid's, along with all the other wonderful supporters who'll be taking part.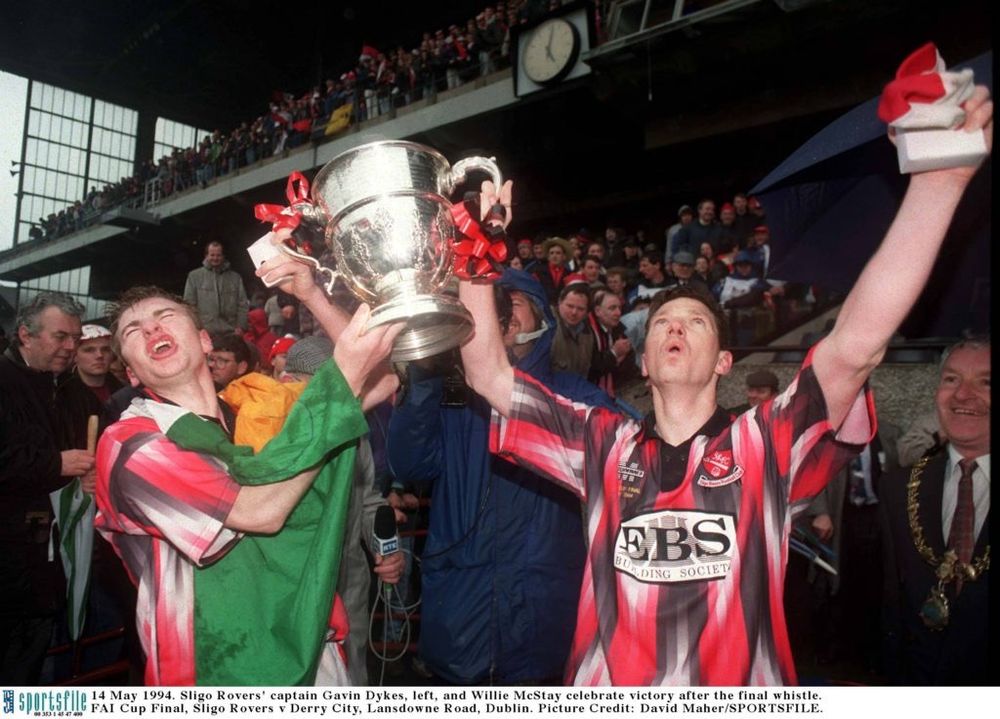 "My first connection to Sligo came through my wife Mary's family – her mother's maiden name was Mary Brady, and the Brady family were all brought up in Sligo. We visited a couple of times but I never thought I would go on to be Player/Manager of Sligo Rovers at that time.
"When I was offered the role at Sligo Rovers I called the great Sean Fallon, a Celtic legend and a Sligo man himself, for some advice. He was brilliant and gave me a few pointers and encouraged me to go all in and do it.  He said: 'Bring your family over, be one of the people, it will help!' and he was spot on.
"We went on to have some wonderful success, winning a unique treble and it was a fantastic achievement to qualify for Europe. At the FAI Cup Final, I'd been unaware that there was a 'special' man in attendance, when I then received a call from Tommy Burns to ask if I would like to join him at Celtic to be Head of Youth. This was a big decision as we had built something special at Sligo but as Tommy did, he convinced me that Celtic was the place for me.
"There are many more stories and connections for both Mary and I, as we made so many friends and have fantastic memories of this fantastic place.
'Sligo has a special place in our family's heart, and we look forward to adding to those memories with what I'm sure will be a great night in Ballymote, in the company of the wonderful Celtic supporters.'
Sleep Out participants will spend the night – from 10.00pm to 6.00am – battling the elements outdoors, all for a wonderful cause.
Time is now running out but supporters can still register to take part by signing up HERE. The non-refundable registration fee is £30/€35 per person and each participant is tasked with raising a minimum of £130/€150 (after entry fee). Please ensure you read the Terms and Conditions thoroughly before committing your agreement and signing up.
Funds raised through the Celtic Sleep Out, Sligo will help to bring the magic of the festive season to children, families, pensioners, those in refuge, the homeless, refugees and others who are struggling at an especially challenging time of year. With a primary focus to provide support directly in Ireland, as we have for many years through the Appeal.
So please follow in the footsteps of Brother Walfrid and help us make a difference to those most in need within our communities this Christmas.
Thank you so much for your wonderful support, as always.