Ahead of the finale of this season's league campaign, Celtic FC Foundation are delighted to announce that our brand new charity pin badge will pay tribute to our manager, Ange Postecoglou.
Having arrived in a transitional period for the club, Ange has reignited the fire both on and off the park. Bringing 'Angeball' to Celtic Park and getting supporters off their seats again with his exciting, relentless, brand of football, it has been a debut season to remember – having clinched the League Cup in December and with the club on the brink of reclaiming the cinch Premiership title. His passion for the club and everything that it represents has also been evident since his arrival and is something that has strongly resonated with every Celtic supporter.
This year's unique badge will feature our Celtic FC Foundation branding, with Ange's familiar salute to the Celtic faithful sitting proudly at the centre, accompanied by the slogan which has encapsulated the ethos of the manager and the team this season – and one which also typifies the Foundation's dedication to providing support to those most in need – 'We. Never. Stop.'
This year's Badge Day, which has once again been organised in collaboration with our Supporters' Committee, will take place in the lead up to the final cinch Premiership match of the season, against Motherwell, on Saturday, May 14. Celtic FC Foundation volunteers will be situated around the ground ahead of the 12.15pm kick-off.
We are requesting a minimum donation of £2 per badge. Cash payments can be placed into one of our buckets and we will also offer a contactless payment option, through volunteer collectors based at key entry points around the stadium footprint.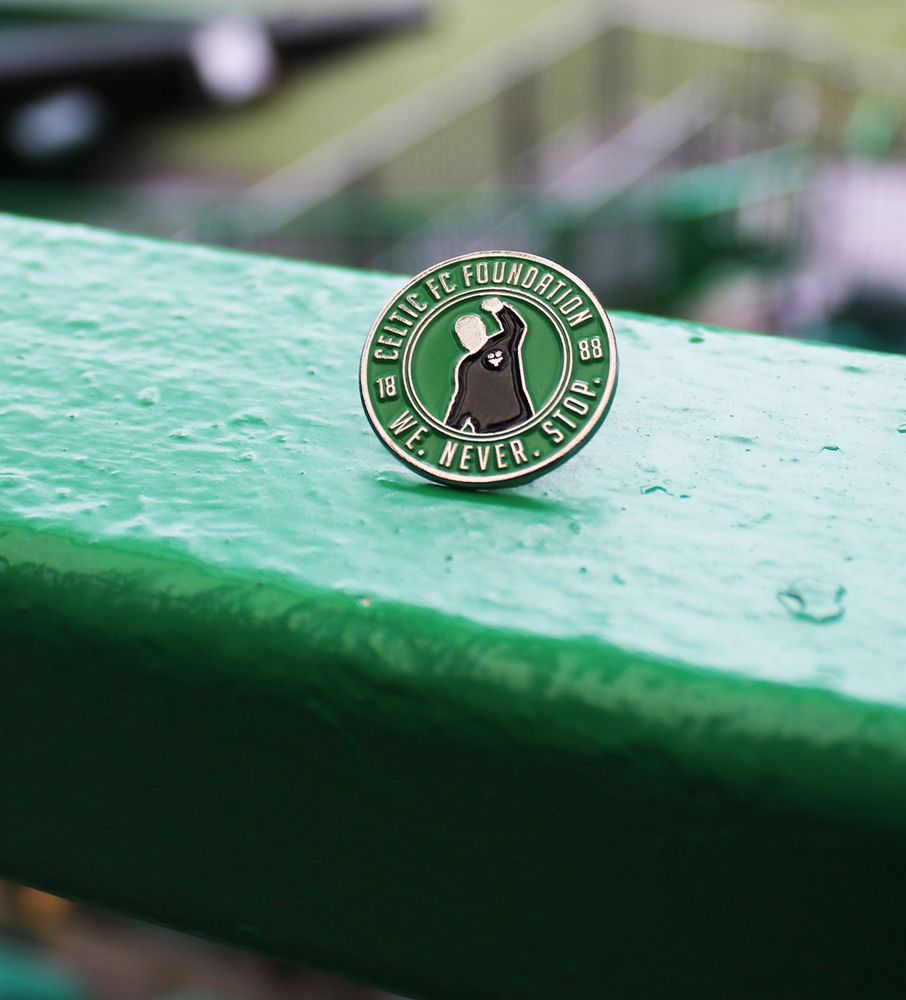 And for those who're unable to attend the match, the badges are also available now via our eBay account HERE, with orders being dispatched during week commencing Monday, May 16, 2022.
Alternatively, they will be available post-match at the Celtic Superstore – by making a £2 donation in one of the Celtic FC Foundation boxes located at the tills.
Celtic FC Foundation Chief Executive, Tony Hamilton spoke ahead of Badge Day, saying: "Our manager, Ange Postecoglou has had a tremendous debut campaign, bringing success on the field and galvanising the support. We're thrilled to be able to pay tribute to his achievements this season by honouring him on our latest charity pin badge.
"The Celtic supporters have been outstanding for us over the course of the season, as they always are, and I would like to thank them once again in advance for their backing ahead of Badge Day.
"I'd also like to express our thanks to the Foundation's Supporters' Committee, who have once again played a crucial role in the organisation of this event and will be instrumental on the day."