Following a virtual event in October 2020, Celtic FC Foundation hosted its third in-person New York Gala Dinner in Manhattan last night (Thursday) and it was the most successful US event to date, raising a staggering net total of over $450K.
The event featured three 'Honourees' – Sir Kenny Dalglish (Sporting), Sir Rod Stewart (Arts) and Kevin Curley (Business), who is President of Curley Financial Group, LLC.
The venue was a private members' club in the city and the event was attended by a capacity crowd of around 290 guests, including businesses, individuals and representatives from local Celtic Supporters' Clubs in New York, New Jersey, Philadelphia and Dallas. The Gala was sponsored by Avolon and Curley Financial Group.
Hosted by Hugo Straney, the evening kicked off with a video welcome message from Celtic manager, Ange Postecoglou, followed by a spine-tingling performance of 'You'll Never Walk Alone' by Celtic supporter, acclaimed Tenor, and star of the Metropolitan Opera, Barry Banks.
Next up was a welcome and message of thanks on behalf of Celtic FC Foundation from Chief Executive, Tony Hamilton.
After dinner, guests heard from Chair of the Gala Dinner Committee, Irishman Paul Geaney, a New York-based Celtic supporter who is Chief Commercial Officer at Avolon. Together with the other members of the Committee, Paul worked tirelessly to deliver a successful event for the Foundation, and it wouldn't have been possible without their efforts.
Paul then made the first award presentation of the evening – to Business Honouree, Kevin Curley – and Kevin addressed the room, confirming his gratitude, his love for Celtic and outlining his passion for charity on so many fronts.
Following a video piece highlighting the projects set to be supported by monies raised on the evening, Pat Tully hosted the auction and pledge drive is his own inimitable style.
The live auction contained a total of eight outstanding prizes – a golf experience for four with football commentators Ian Joy and Robbie Mustoe; a private dining experience for 10 with chef, Kiersten Gormeley; an exclusive VIP opportunity for two to stay and play at Loch Lomond Golf Club; a VIP Notre Dame football experience for four; a Rolex Daytona watch; a VIP matchday package for two in the boardroom at Anfield; a VIP Sir Rod Stewart package for four, including concert tickets and meet and greet; a VIP matchday package for two in the boardroom at Celtic Park – and these were complemented by a host of fantastic items in the silent auction.
Following another stunning performance by Barry Banks – 'Nessum Dorma' – it was time for the second award of the evening as Tony Hamilton presented a gift to Sporting Honouree, Sir Kenny Dalglish.
King Kenny remained on stage to take part in a Q&A and he shared a host of memories from throughout his football career, particularly with Celtic. He had also very generously donated his shirt from the 'Greatest Ever Celt' celebration back in the year 2000 and it raised a magnificent $10K.
Paul Geaney then made the final presentation of the evening to Arts Honouree, Sir Rod Stewart – whose VIP auction package raised a phenomenal $80K – and the music icon performed Celtic Park favourite, 'Grace', before the formal proceedings were rounded off by a Liam McGrandles live set.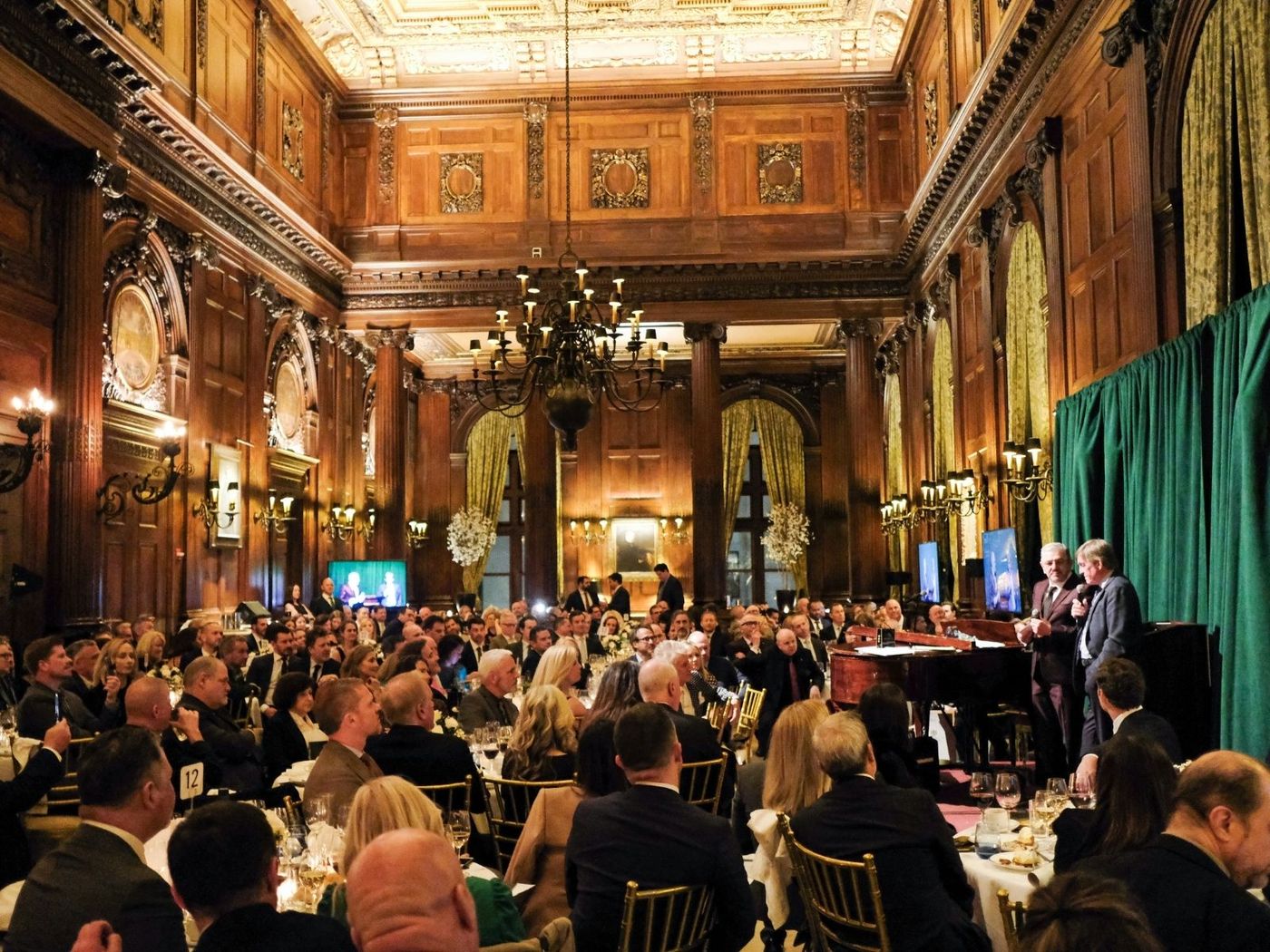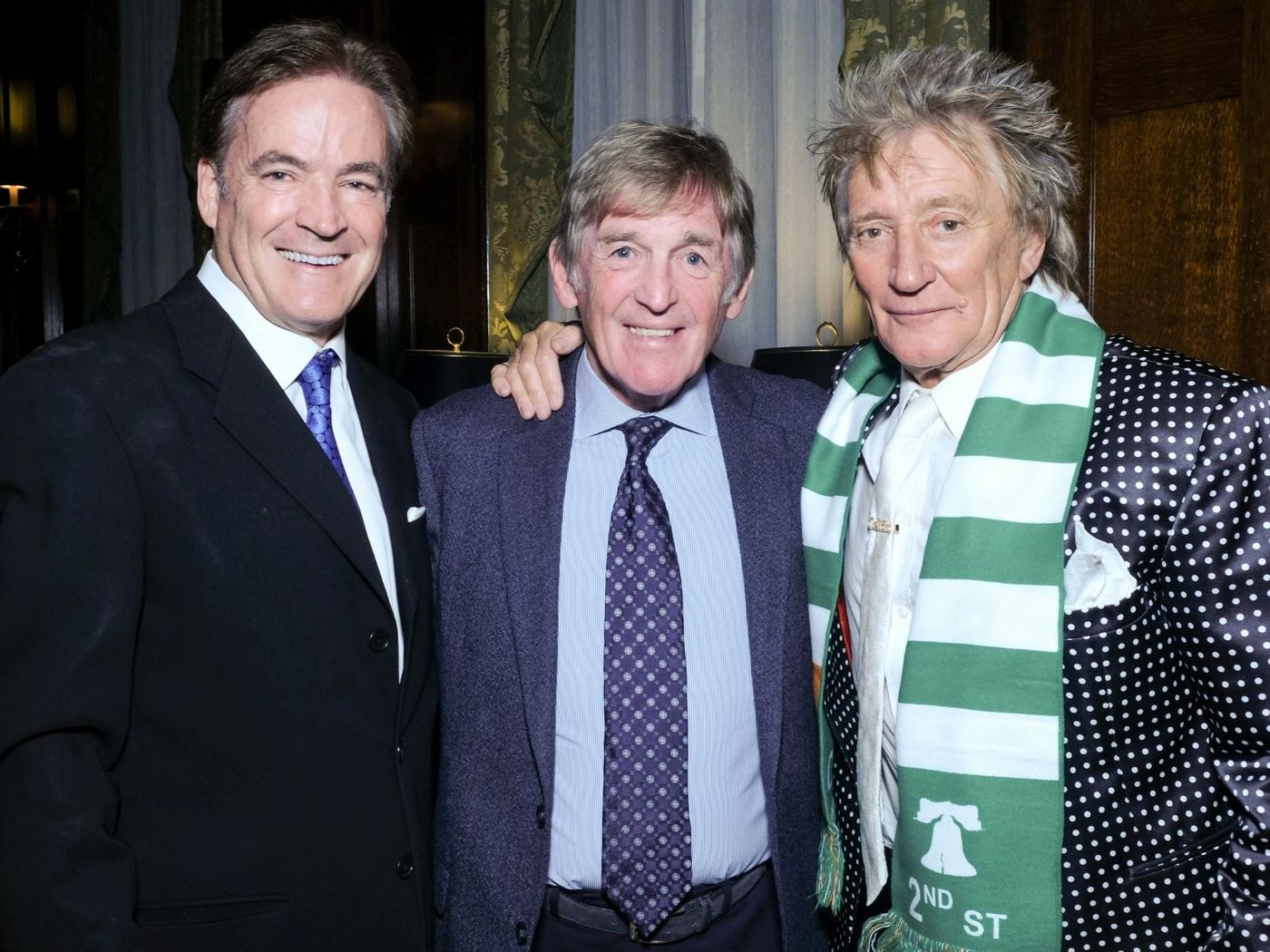 Funds raised will primarily support Foundation initiatives in Scotland, Ireland and New York.
In Ireland and New York, this will involve development of School Holiday projects.
Working once again with partner organisations in both locations, we will build on our previous delivery and offer support to some of the most vulnerable children and families during the vital school holiday periods by providing a programme of sporting and feeding activities that promote friendship and shared values among young people from all communities.
In Scotland, funds will support our brand new Foundation Holiday Home project. Having recently acquired a holiday home at the Park Dean resort in Wemyss Bay, Scotland, we will provide free of charge holidays, to children and adults who otherwise could not afford one.
The holiday home will ensure families and individuals enjoy a fully-funded holiday experience and for many, the opportunity to travel for the first time outside of their own neighbourhoods.
The holiday home will also provide respite for families or individuals who are experiencing illness, or for those who are responsible for providing primary care for their loved ones.
Gala Committee Chair, Paul Geaney said: "I'm amazed by what I've witnessed tonight. I feel so fortunate to have played a role, together with my colleagues on the Committee, in such an extraordinary evening.
'To have raised over $450K for the Foundation at a time when so many people need their help is something that everyone who contributed should be really proud of. And we did it the Celtic way; with a sense of community and generosity and purpose.'
"I'd like to extend my gratitude to Kevin, Sir Kenny and Sir Rod for being with us and for helping make it a memorable occasion. It was wonderful to see this stunning corner of New York City awash in green and white for the third time and we can now look forward with confidence to many more events like this in the future."
Michael Nicholson, Celtic's Chief Executive, said: "The support for Celtic FC Foundation at the Gala Dinner in New York on Thursday evening was phenomenal.
"Building on the club's charitable beginnings, the Foundation prioritises change for people who need assistance today and going forward. We are enormously proud of the Celtic supporters and the business communities who make this possible and we thank them for their ongoing support and commitment." 
Celtic FC Foundation Chief Executive, Tony Hamilton, added: "We're very grateful to the Gala Dinner Committee, led by Paul Geaney, who is also a Trustee of Celtic FC Foundation Inc in the United States, for the part they all played. The entire Committee deserve much credit for their work over the past year to get us to this point.
'Thanks also to our Honourees, Kevin Curley, Rod Stewart and King Kenny Dalglish for giving up their time to travel to New York, and being in great form on the night.'
"Success at fundraisers such as this is dependent on good people who buy in to what we're trying to do, and we had that in abundance this week. The money raised means we can now push ahead with our plans to help more people in our communities at home and abroad in the coming year."
We would like to thank Sir Kenny Dalglish, Sir Rod Stewart, Kevin Curley, Paul Geaney and our Committee, Avolon, Curley Financial Group, every table and ticket holder, our local Celtic Supporters' Clubs, those who donated prizes for the auctions and Glenfiddich for complimentary whisky, Barry Banks, Liam McGrandles, Pat Tully and our host, Hugo Straney.
Please don't ever underestimate the difference you have made.