Celtic FC Foundation hosted its fourth in-person New York Gala Dinner in Manhattan last night (Wednesday) and it was the most successful US event to date, raising a staggering net total in the region of $500K.
The funds raised in New York will allow the Foundation to continue its work in the city for another year, as well as supporting existing project delivery in Glasgow and in Ireland.
The event featured a sensational and exclusive performance from Sir Rod Stewart and his band – following a commitment he made at the 2022 Gala – and also included a wonderful Q&A with 'Sporting Honouree', and former Celtic manager, Gordon Strachan.
The venue was the stunning Cipriani's 25 Broadway and the event was attended by a capacity crowd of around 400 guests, including businesses, individuals and representatives from local Celtic Supporters' Clubs in New York, New Jersey, Philadelphia, Dallas and Dubai. The Gala was once again sponsored by Avolon.
Hosted by Hugo Straney, the evening kicked off with a video welcome message from Celtic manager, Ange Postecoglou, followed by a spine-tingling performance of 'You'll Never Walk Alone' by Celtic supporter, acclaimed Tenor, and star of the Metropolitan Opera, Barry Banks.
Next up was a welcome and message of thanks on behalf of Celtic FC Foundation, from Chief Executive, Tony Hamilton, and the live auction and pledge drive, hosted by Pat Tully in his own inimitable style, followed dinner.
The auction consisted of a magnificent seven outstanding prizes – a pair of category one tickets for this year's UEFA Champions League final in Istanbul; Eden Mill Whisky Cask and VIP St Andrews Distillery visit for two; GAA All Ireland Final and VIP Celtic Park experience for two; an incredible luxury week's stay for up to eight people in the Dominican Republic and a VIP PGA experience; a Rolex Daytona watch; an opportunity for two to travel with the team to a UEFA away fixture next season; a VIP Sir Rod Stewart package for four, including concert tickets and meet and greet – and these were complemented by a host of fantastic items in the silent auction.
And then it was time to welcome Sir Rod and his band on stage. The 40-minute set was absolutely incredible, jam-packed with a host of classics, including 'You're In My Heart', 'Grace' and a wonderful rendition of 'It's A Heartache', which led to a chorus of 'In the Heat of Lisbon' from the entire room. It's safe to say that Cipriani's had never seen the likes before. We are eternally grateful to Sir Rod for donating his time – and that of his band – so selflessly and generously last night and for everything he continues to do in support of Celtic FC Foundation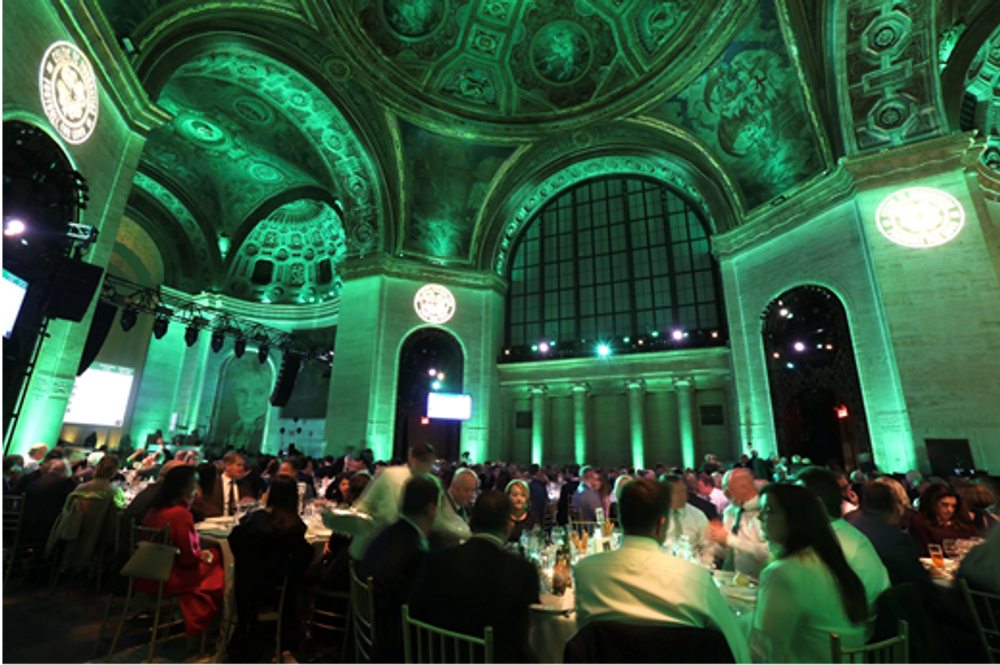 Following another stunning performance by Barry Banks – 'Nessum Dorma' – it was time to hear from Chair of the Gala Dinner Committee, Irishman Paul Geaney, a New York-based Celtic supporter who is President & Chief Commercial Officer at Avolon Aerospace. Together with the other members of the committee, Paul worked tirelessly to deliver a successful event for the Foundation, and it wouldn't have been possible without their efforts.
Paul then made the evening's award presentation – to Sporting Honouree, Gordon Strachan – and Gordon remained on stage to take part in a Q&A, as he shared a host of memories from throughout his football career, particularly his time managing Celtic and his relationship with the legendary Tommy Burns.
The formal proceedings were rounded off, as they always are for the Foundation in New York, by a live set from Liam McGrandles.
Funds raised will primarily support Foundation initiatives in Scotland, Ireland and New York.
Scotland – With the ongoing cost of living crisis continuing to put a strain on household budgets across the country, Celtic FC Foundation recently launched a new project which kicked off in January 2023 – 'Paradise Pit Stop'. The project has since seen the doors of Celtic Park open every Monday and Thursday night between 5pm-7pm, providing a safe, warm and non-judgmental environment for anyone who needs it, to come along for a free warm meal and a selection of hot and soft drinks to enjoy in the comfort of our lounge. Over 800 people have benefitted from the project to date and with this further support, we can ensure that we reach even more disadvantaged people in our local community.
Ireland – this will involve development of our existing Community Games initiative, allowing us to reach more children who are living in poverty and provide them with opportunities to learn, play and develop in a safe environment.
New York – We want to build on our existing partnership with Children's Aid NYC in Harlem and help children living in under-resourced communities in NYC to access opportunities that otherwise might not be possible. Thanks to the generosity of our Gala Dinner guests we will be able to deliver another summer games project. In January 2023, over 12,000 families slept in shelters in New York each night. With this in mind, we are aiming to continue our partnership with Coalition for The Homeless to provide essential support to homeless children. Due to the funds generated last night in the city, we will deliver this via their Bound for Success and Back to School projects.
Gala Committee Chair, Paul Geaney said: "Not sure I'll come back down to earth anytime soon after such an extraordinary experience here at Cipriani's tonight. I'm a very lucky man to have worked with the team at the Foundation and such a fantastic committee to pull together a completely unique event.
"The fundraising total is absolutely remarkable and is testament to every single individual and organisation who has played their part. The array of kindness and generosity epitomised the whole ethos of our club's being and will ensure significant impacts on those who are most vulnerable in three different locations; Scotland, Ireland and New York.
"I'd like to extend my gratitude to Sir Rod, Gordon, Barry, Liam, Pat and Hugo for being with us and for helping make it such a magical night. Once again, New York was most certainly green and white and I look forward to more evenings of celebration, friendship and fundraising in this wonderful city."
Michael Nicholson, Celtic's Chief Executive and Foundation Trustee, said: "The work of Celtic FC Foundation is an integral part of our club's past, present and future, and the fantastic support displayed at the Gala Dinner in New York on Wednesday evening was inspirational.
"I am delighted to see that important initiatives in New York, Scotland and Ireland will benefit as a result of the incredible generosity shown and that so many vulnerable children, young people and adults will receive vital support.
"We are all proud of our club's charitable heritage and are grateful to the team at Celtic FC Foundation for continuing to build on Brother Walfrid's legacy. We thank all those who have supported the event for their ongoing commitment to this great cause, including Sir Rod Stewart, Gordon Strachan, Paul Geaney and the other members of the Gala Dinner Committee."
Celtic FC Foundation Chief Executive, Tony Hamilton, added: "As always, none of this would have happened without the incredible efforts of our Gala Dinner Committee and the Foundation team for the part they all played. Every member has worked tirelessly over the last 12 months to deliver our 2023 Gala.
"Sincere thanks also to the many Celtic supporters' clubs we engage with in the United States and, of course, thanks to Rod and Gordon for giving up their time travel to New York, and entertaining us in such magnificent surroundings.
"Guests turned out in great numbers, as they always do, to support our efforts at the New York Gala and, thanks to their outstanding generosity, we can now push ahead with our plans to help more people in our communities at home and also in Ireland and New York in the year ahead."
We would like to thank Sir Rod Stewart, Gordon Strachan, Paul Geaney and our Committee, Avolon, every table and ticket holder, our local Celtic Supporters' Clubs, those who donated prizes for the auctions and Eden Mill for complimentary gin, Barry Banks, Liam McGrandles, Pat Tully and our host, Hugo Straney.
Please don't ever underestimate the difference you have made.