For more than a year, Celtic FC Foundation have provided support to the most vulnerable, at-risk groups affected by the COVID-19 pandemic, under the banner, 'Football for Good Fund' (FFGF), and we've now reached £1.3million through the Fund, including our 2020 Christmas Appeal.
Back in March 2020, we were forced to pause our traditional project delivery and fundraising activities, with the entire focus of the Foundation being redirected to alleviating the evolving complications of the COVID-19 crisis in our communities.
We have worked with 82 partner charities, schools and community organisations to supply urgent and vital food and essentials, assistance to challenge fuel poverty, and mental health support to those who need it most in Scotland, Ireland, the wider UK, and overseas.
The FFGF is continuing to make a difference, and has now reached a new milestone. In summary, the FFGF has supported: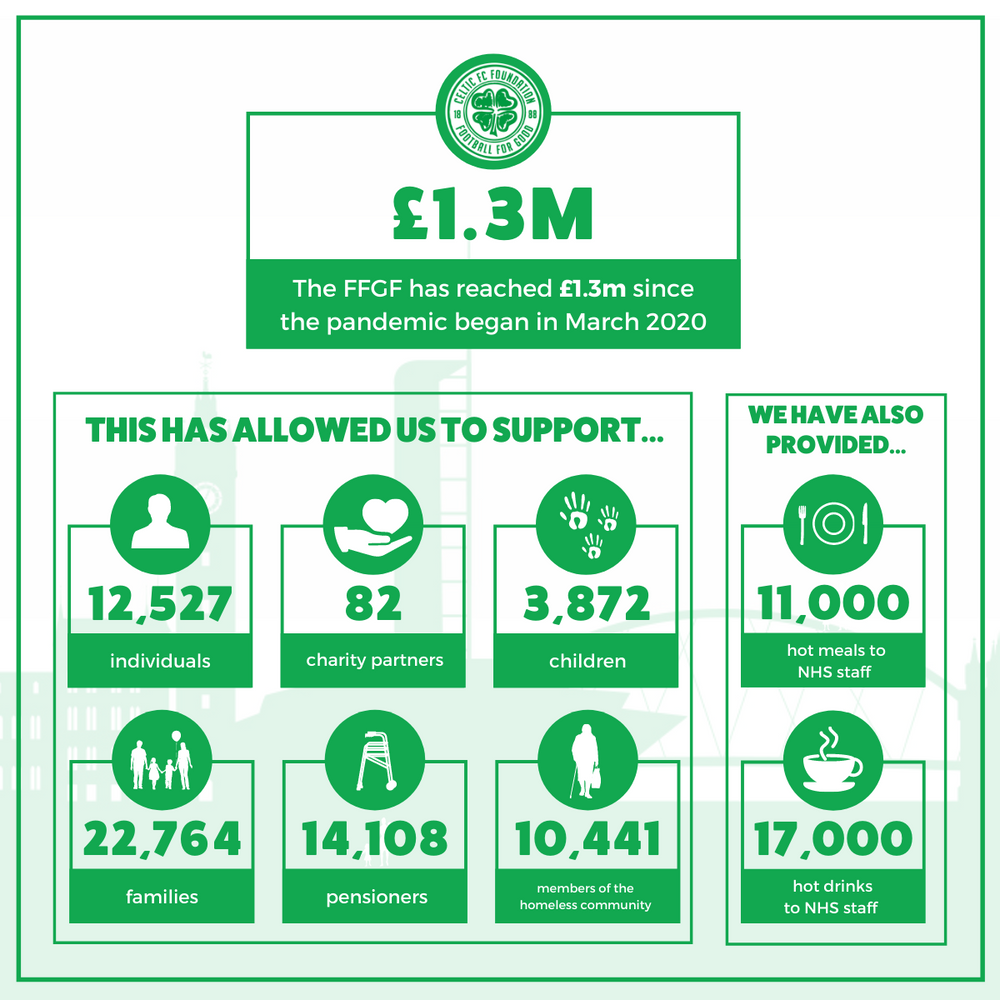 These crucial interventions are made possible due to the magnificent generosity of the Celtic support – thank you for helping us to make a difference.
Tony Hamilton, Celtic FC Foundation's Chief Executive, said: "This has been an extraordinary effort from a lot of people, including many of our supporters at home and across the world, and I am very grateful to everyone who has helped with this.
'In turn, thousands of people have benefitted at a time when they really needed help, and we're very honoured that we could play a part as people live through this pandemic.'
"Our board of Trustees and the team at Celtic FC Foundation, like everyone else, are longing for normality. However, we recognise the need for FFGF to continue for the foreseeable future. So, in the next couple of weeks we'll be making another announcement around how we can continue this for the remainder of 2021, while we bring back our regular delivery."
For further details on the Football for Good Fund or any other Celtic FC Foundation activities, please email [email protected] and we will respond to you as soon as we possibly can.